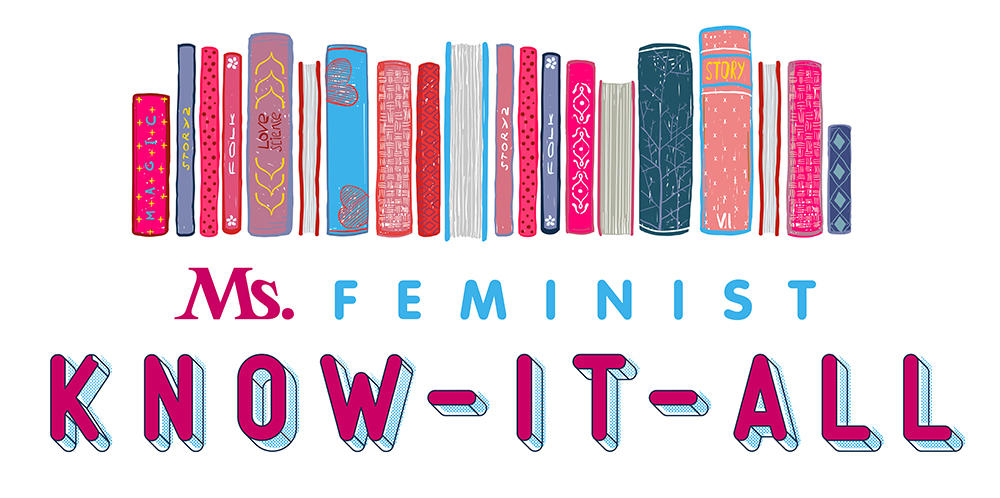 The Feminist Know-It-All: You know her. You can't stand her. Good thing she's not here! Instead, this column by gender and women's studies librarian Karla Strand will amplify stories of the creation, access, use and preservation of knowledge by women and girls around the world; share innovative projects and initiatives that focus on information, literacies, libraries and more; and, of course, talk about all of the books.
---
April is National Poetry Month!
And as we all shelter in place, don't we need poetry now more than ever?
Last year my dormant love of poetry was reignited and I am happy to say that my love has only continued to grow throughout the past year. 
Take a look at the list below for the most exciting collections coming your way this year, all by and for the rest of us: poets who are women, womxn, Black, Indigenous, Latinx, AAPI, international, LGBIA+, TGNC, queer, disabled, fat, immigrant, Muslim, neurodivergent, sex-positive or of other historically marginalized identities.
Here are 44 of my favorite collections of 2020!
By Honorée Fanonne Jeffers. Wesleyan University Press. 200 pages. Out now.
With her latest volume, award-winning poet Jeffers presents an arresting and meticulously researched collection of poems imagining the life of remarkable life and revolutionary work of Phillis Wheatley.
By Marianne Chan (@marianneLchan). Sarabande Books. 96 pages. Out now. 
Across time and place, Chan's ambitious debut collection explores religion, identity and history through a Filipino American perspective of the travels and colonization of explorers like Magellan. 
Edited by Felicia Rose Chavez, José Olivarez (@_joseolivarez) and Willie Perdomo (@willieperdomo). Haymarket Books. 225 pages. Out now.
New to poetry and don't know where to start? Looking to broaden your poetry perspectives? Either way, you should be reading the exceptional Breakbeats Poets series from Haymarket; the latest features the work of Latinx masters and up-and-comers alike. Seriously, just read them all. 
By Amanda Lovelace (@ladybookmad). Andrews McMeel Publishing. 160 pages. Out now.
I adore this new take on the Cinderella story. In empowering and inspiring poems, Lovelace turns the fairy tale on its head, in all the best feminist ways.
By moira j (@mxmoiraj). Sundress Publications. Out now. 
This formidable debut collection of poetry from moira j focuses on Indigeneity, queerness, nature and kinship. $1 of every pre-order will go to support the National Indigenous Women's Resource Center, a nonprofit organization aimed at providing safety for Indigenous women and their children.
By Roya Marsh (@ChampagnePoet). MCD x FSG Originals. 112 pages. Out now.
This is an exceptional debut in which Marsh fills a gap in representation with her tomboy, butch, survivor, queer AF Black woman realness. 
By Aija Mayrock (@aijamayrock). Andrews McMeel Publishing. 128 pages. Out now.
This debut poetry collection, by spoken word artist extraordinaire Aija Mayrock, is a testament to the beauty, hardships and power of womanhood.
By Upile Chisala (@beingupile). Andrews McMeel Publishing. 160 pages. Out now.
Upile Chisala's absorbing third collection of poetry is focused on her Malawian identity, empowerment and the fire within all women.
By Megan Fernandes. Tin House Books. 126 pages. Out now.
This tremendous collection of poems centers feminism, racism, and rage in all its imperfections, contradictions and candor. Poet Kaveh Akbar describes it best in one word: "Ferocious."
By Jillian Christmas. Arsenal Pulp Press. 80 pages. Out now.
Lyrical, frank, queer, spooky, shameless, holy and disarming, this collection explores loss, love, Blackness, memory and embodiment. 
In Praise of Fragments
By Meena Alexander. Nightboat Books. 104 pages. Out now.
Published since her untimely passing in 2018, this is Meena Alexander's last collection of works. It's in these lyric fragments that the reader will discover the beautiful whole.  
To All the Yellow Flowers
By Raya Tuffaha (@rayatuffaha). Golden Antelope Press. 92 pages. Out now.
Through this fresh collection of poems, Tuffaha allows readers insight into life as a young, queer Muslim woman at the intersection of tradition and modernism, expectations and authenticity.